McCall, Idaho Ski History
A culture of Winter Sports
McCall, Idaho has always fostered a culture of winter sports and athleticism. Before dedicated ski areas were built, residents used skis, snowshoes and sleds as a way of life and snowshoeing, ski jumping and dog sled racing provided entertainment during the long winter months. Kids and adults learned how to ski in their backyards or on hills around town like "Mrs. Murphy's Hill," know known as Knob Hill. Explore some of the memorable moments in McCall's rich ski history.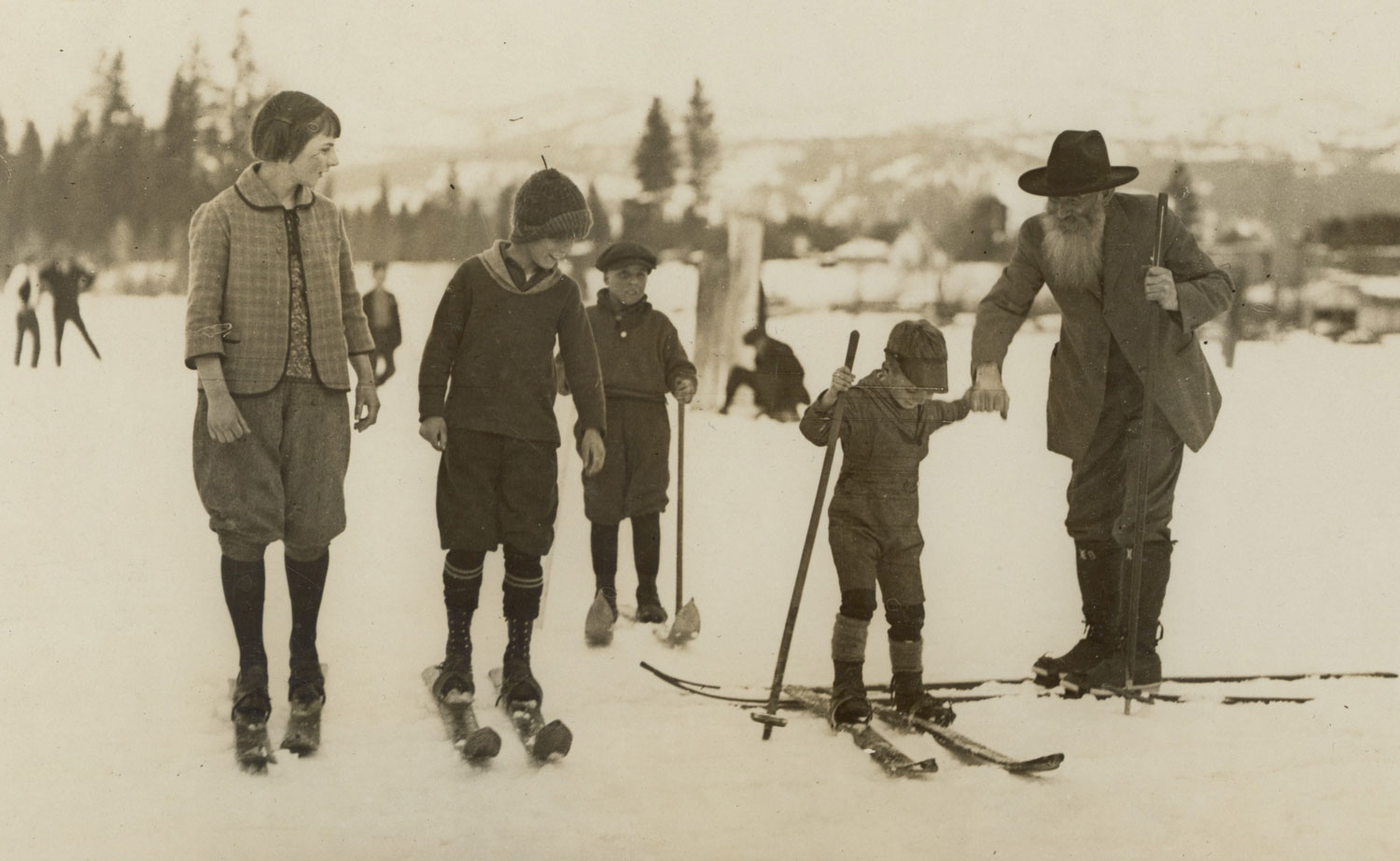 A way of life
Since the first Finnish and Scandinavian settlers first came to the area in the 1880s, winter sports have been a way of life in McCall. Work and play didn't stop because of deep snow and families used skis and snowshoes every day to traverse the landscape. Trappers and mailmen relied on this equipment to travel the backcountry and children often made homemade skis to get to town.
Photo: Grandpa Shaw instructs children on how to ski.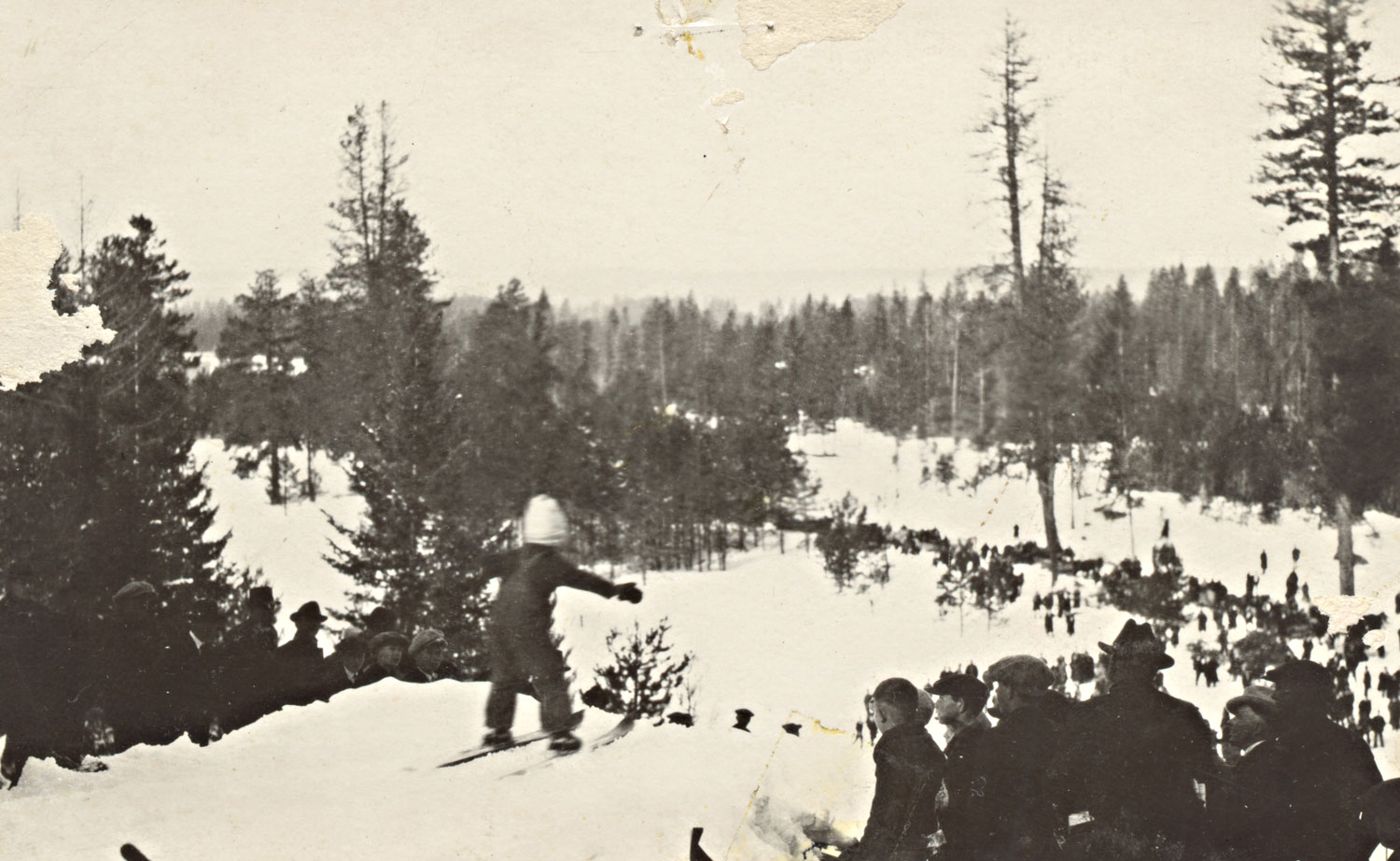 Blackwell Ski Jump
In the 1920s, Blackwell's Ranch played host to ski jumping competitions. During the first McCall Winter Carnival, held in 1924, Shorty Pulsen won the event with a jump of seventy-seven feet; however, Lloyd Johnson (pictured left) won hearts as the youngest ski jumper and earned the moniker of "World's Smallest Ski Jumper."
Photo: Lloyd Johnson, the youngest ski jumper at the 1924 McCall Winter Carnival, jumps at Blackwell Hill.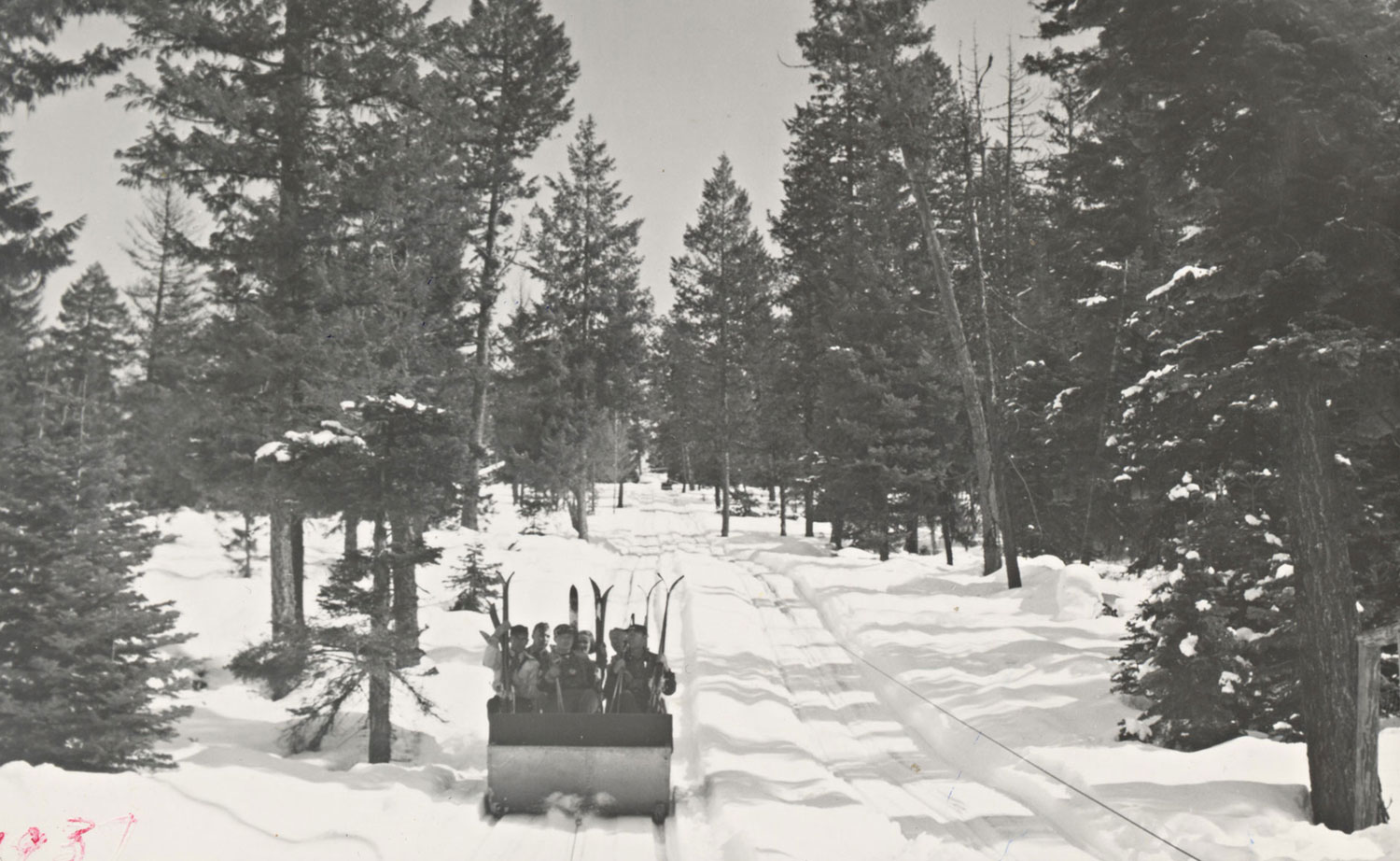 Little Ski Hill
The Little Ski Hill opened in 1937,  and was operated by the US Forest Service on land donated by Carl Brown. The infrastructure was built by the CCC and local volunteers and featured two larger jumps ("A" and "B") and a ski area serviced by a "boat tow" designed by Joe Kasper, the sawmill's millwright.
Photo: Skiers ride the boat tow's "Jigback Toboggan" to the top of the Little Ski Hill in 1937.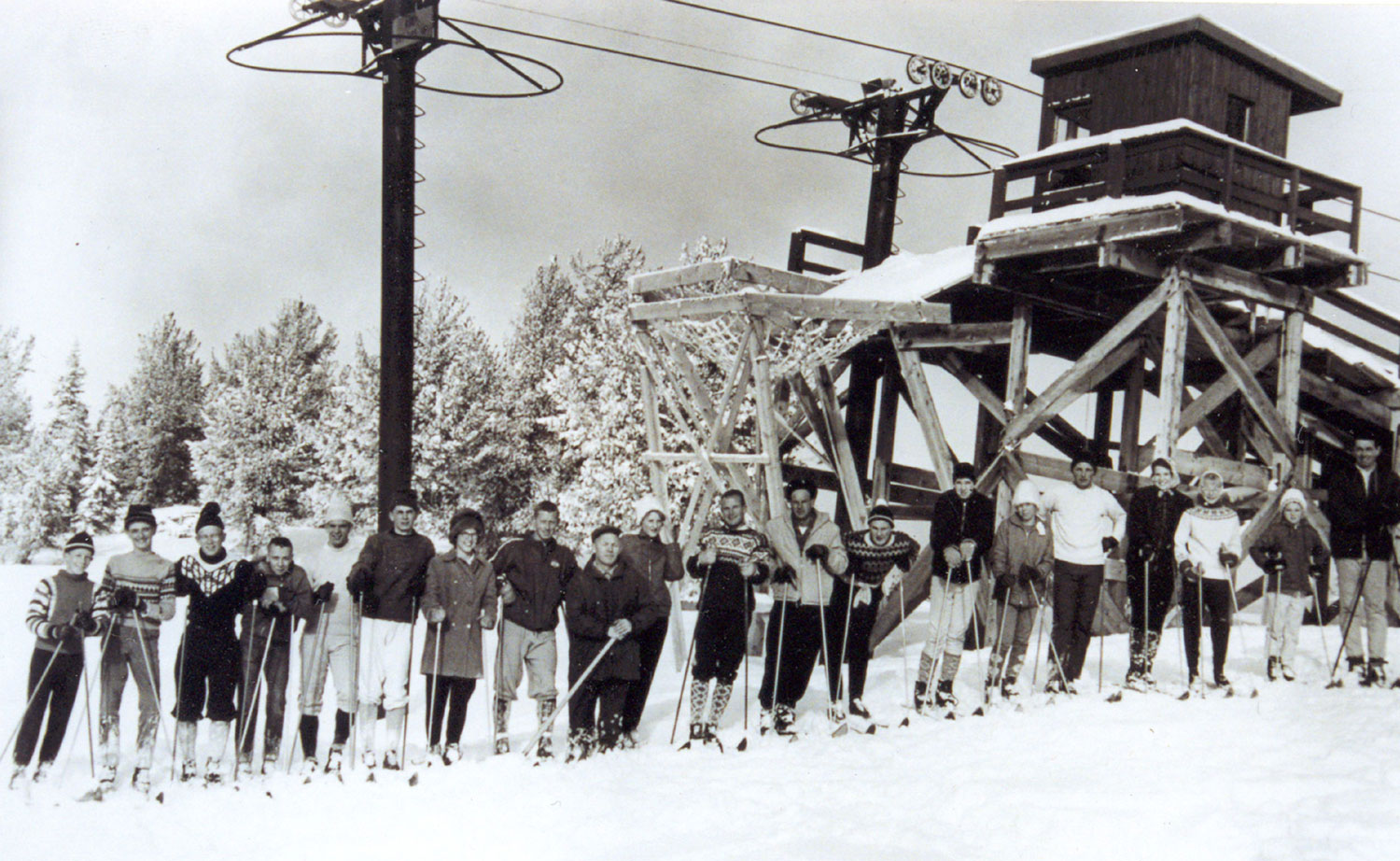 Brundage Mountain Resort
Founders Warren Brown, Jack Simplot and Corey Engen opened Brundage Mountain Ski Area on Thanksgiving Day in 1961 with two mile-long runs and glade skiing area. Today, Brundage Mountain Resort is home to 6 lifts, 51 named runs, 1,920 acres of lift-accessed terrain and 18,000 acres of guided backcountry terrain.
Photo: The Ski Team poses for a photo at the top of Brundage Mountain in 1961.
Special thanks to Eve Chandler and her book, "Brundage Mountain: Best Snow In Idaho," for these snippets of McCall's history.
McCall Ski History TIMELINE

January 1924
The first McCall Winter Carnival, known as the Payette Lakes Winter Games, was held. Events included dog sled races, ski racing and jumping, skijoring, snowshoe races and snow shoveling competitions.

December 1937
The Little Ski Hill opens and Warren Brown brings in Corey Engen from Utah to manage the hill.  Lift tickets were $0.10 per ride or 15 rides for $1. A toboggan sled served as the lift to service a ski jump and a day lodge built from logs provided relaxation.

1941
Lloyd Johnson starts a children's ski racing group called the Mighty Mites. Brown Lumber Company employees  drove the children to the Little Ski Hill in company buses every day the hill was open.

1946
A 55-meter "big jump" (also known as the "A" jump) was constructed at the Little Ski Hill. When Alf Engen came to test it, he jumped 204 feet.

1954
The Lodge at the Little Ski Hill burns down with more than 200 pairs of skis and boots. While the Lodge was being rebuilt, the ski club used a prefab bunkhouse and equipment donated by skiers from all over the area. The Lodge was rebuilt out of cinderblocks for the 1956 season.

1955
A platter tow, similar to a Pomalift, is installed at the Little Ski Hill.

Late 1950s
Brown, Engen, and J.R. Simplot discuss the possibility of a new ski resort and decide on Brundage Mountain.

December 1960
The Little Ski Hill adds night skiing with donated floodlights attached to trees.

April 1961
The Forest Service issues a permit to Brown, Engen and Simplot to build Brundage Mountain Ski Resort. Total cost is estimated at $215,000. Johnny Boydstun is hired as the first employee at Brundage in June 1961.

November 1961
The Brundage Mountain Company begins lift operations on Thanksgiving Day – attendance is estimated at 1,000. The first lift ticket sells for $4.00. A 3,000 square foot A-frame lodge named the"Triad Lodge" is opened at Brundage.

February 1963
The first Engen Cup races are held – Norman Zachary of McCall takes first place.

1968 – 1970
The platter pull at the Little Ski Hill was replaced by a portable Mini-Mite tow, but both were deemed unsafe by the Forest Service. The hill closed for three years until the ski club obtained an FHA loan for $81,500 to purchase a new T-bar and snow groomers. The Little Ski Hill reopened in 1971. When the Little Ski Hill was closed, the Mighty Mites practiced at Brundage Mountain.

1978
A new double chairlift is added at Brundage Mountain Resort.

July 1980
Judd DeBoer and his wife, Diane, Warren Brown's daughter, buy out Brown Industries and their 50 percent interest in Brundage Mountain.

November 1990
The new Centennial triple chairlift opens, expanding Brundage Mountain's acreage by more than 30 percent.

January 1991
Snowcat Skiing on Sargent Mountain begins at Brundage Mountain.

1992
A thunderstorm micro-burst destroyed the wooden scaffolding of the ski jump at the Little Ski Hill, ending the ski jumping era. The wooden jump was the last of it's kind in the west.

November 1997
The Blue Bird Express high-speed quad chairlift opens at Brundage Mountain.

March 1-7, 2008
McCall hosts the Masters World Cup Nordic ski race, the first in the U.S. since 1998. The event brought more than 1,000 athletes from across North America and over two dozen nations.